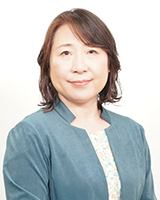 Dr. Yuka Dai, President
Thank you for visiting the website.
The Japan Association of Public Health Nurse Educational Institutions (JAPHNEI) was established in 1980, and it became a General Incorporated Association since 2011. There are 239 member schools, which is approximately 85% of all public health nurse training schools.
In Japan, "Public Health Nurse (PHN)" is a title given to a person under licensure from the Minister of Health, Labor and Welfare to use the title of Public Health Nurse and provide health guidance as a profession.
As the rapid decline in birthrates and aging of the population is progressing, people face many health problems such as health disparities, isolation and loneliness, natural disasters, and pandemics in Japan.
In this context, PHN work as public health professionals to promote people's healthy life, reduce health disparities, support mental health, promote new ways of working, build community care systems, and improve health crisis management systems in a variety of settings.
Therefore, PHN need to acquire advanced practical skills to support, support for interpersonal and communities, to form policies for health promotion, and establishment of community care systems, as well as high ethical standards.
JAPHNEI work to the training of PHN students who can respond to the changes and needs of society and address social issues related to the health and lives of the public with people and community.
Therefore, we will work public health nurse education in graduate school and advanced course to improve the quality of public health nurse education.
In addition, we will work to revise the model core curriculum for public health nurse education based on clarify the competencies of PHN, to create health risk management materials, and to establish a training and evaluation mechanism to assure the quality of education, and so on.
Please join and cooperate with the activities of JAPHNEI.