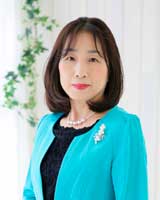 Dr. Emiko Kishi, President
As Japan's population is aging, our birth rate is declining, and our society is becoming more globalized and digitized, social disparities are producing health disparities. Japan is facing an increasing number of complex health challenges such as abuse, suicide, and elderly adults having to care for other elderly adults. In the face of such social issues, it is the job of public health nurses to protect the health of community residents, schoolchildren, and workers to help make their community safe, just, and fair. The Act on Public Health Nurses, Midwives, and Nurses defines a public health nurse as a "person who provides health guidance as a profession". However, the fundamental skills required of a public health nurse include not only the ability to provide one-on-one support, but also professional skills that enable them to provide community-level support and draft health promotion policies, and a wide perspective, flexibility, management skills, and professional independence and awareness to support them in carrying out those tasks. Training of public health nurses that can meet the needs of our time and society has a direct impact on the preservation and promotion of national health.
The Japan Association of Public Health Nurse Educational Institutions (JAPHNEI) was founded as an unincorporated organization in 1980 with the aim of improving the quality of public health nurse education. It was incorporated as a General Incorporated Association in 2011. We consider the education of public health nurses to be our social responsibility and are working toward its enrichment. Our mission is to improve public health by enhancing public health nurse educational institutions across Japan and enriching public health nurse education. We work to fulfill this mission through six committees and seven regional blocks. In 2017, we will start an online journal called Public Health Nursing Education and send it out across Japan. We may also send it internationally in the future.
In 2015, ninety-four percent of aspiring public health nurses who passed the national examination had graduated from an undergraduate program. Today, public health nurses are trained in a wide variety of institutional settings, including training schools, advanced courses at junior colleges, undergraduate programs (public health nursing–specific programs and nursing programs with elective courses in public health nursing), and graduate programs. Over 200 schools currently offer master's programs. After the Specified Regulations for Training Schools and Training Institutes for Public Health Nurses, Midwives, and Nurses were revised in 2010, the minimum education requirements are now 28 credit hours of public health nursing education, 28 credit hours of midwifery education, and 97 credit hours of nursing education. In addition, the minimum length of public health nursing education was raised from 6 months to 1 year, indicating society's need for more comprehensive public health nurse education. JAPHNEI coordinates with public health nursing programs, and, through repetition of those efforts, works to ensure that public health nurses receive a comprehensive education grounded in the science of public health nursing.